Kids around his neighborhood loathed opposing Amandre Williams.
Moving as many times as he did, the neighborhood Williams played in changed too many times to keep straight. He and his family moved as his father, Tyrone, pursued a professional football career.
So Williams grew up, like any other kid he said, wanting to be like his dad. He loved football and played with his brothers in their yard, wherever that yard happened to be.
He was destined for a football life. He played quarterback in high school, but he knew he was bound to play defense in college. Then after he had a chance to play with his brother at Washington, a premier program in what he considered his home state, Williams thought it was best for him to move yet again.
This all led him to coming to Montana State. He knows he can't control everything that's impacted his life, but he felt by coming to Bozeman, he could take agency in the trajectory of his career.
Williams earned a starting spot on MSU's standout defense almost immediately at buck end and is in the starting lineup this week against Norfolk State. His intelligence, athleticism and work ethic, Bobcats head coach Jeff Choate said, made it easy for him to play right away.
"He's committed to being great," Choate said.
Williams let out a "sheesh" when thinking of all the places he's lived. He wasn't always in the same city as his father, who played at the University of Wyoming before playing in the NFL and CFL.
Williams was born in Chicago, but lived in Nebraska, Colorado and moved several times around Washington.
Through all those moves, he and his siblings all loved sports. Williams was addicted to the physicality, the relationships he built with his teammates and the atmosphere of game days.
No matter where he lived, he always had that.
"Playing sports, you always have that immediate friends group you find. So it wasn't too terrible. It was just normal," he said. "Football is just that place where you let go. It's definitely been stable for me."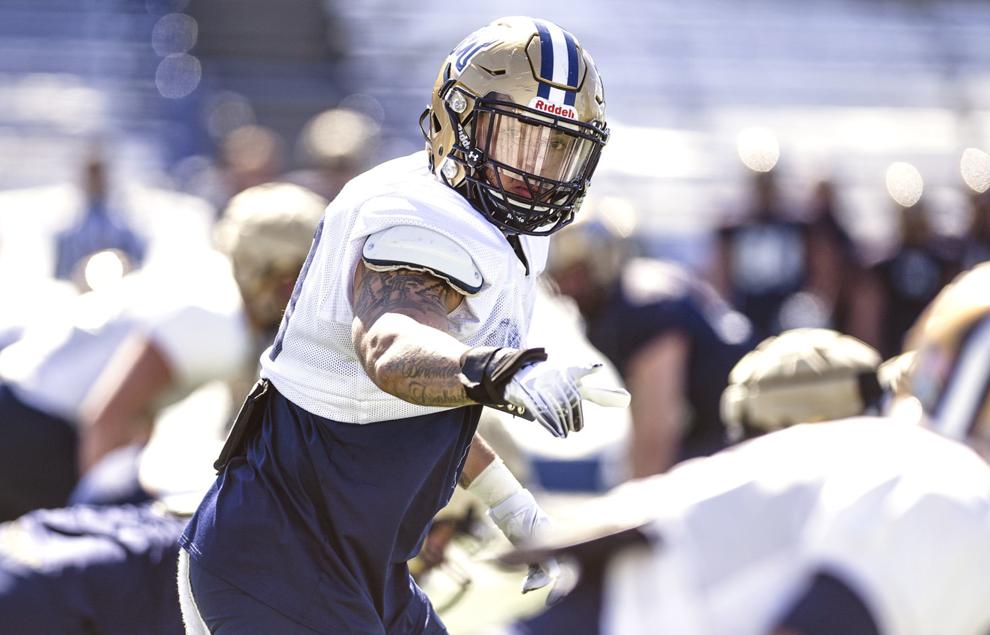 Football was there for him when his parents separated his junior year of high school. He lived with his mom at that time and then later moved in with his father, who coached him in high school at Tahoma (Washington).
Williams knows he's not the only person to have gone through something like that. Still, it wasn't easy.
"That was the toughest thing for all of us as siblings," he said. "If anything, it made my siblings closer. We were kind of each other's support through it all. We were always around each other, trying to help each other get through it as much as we could.
"And sports was obviously there for us. We had our friend group at school, so that was kind of our escape."
In high school, Williams got to play with DeShon, his older brother, for one year as a sophomore when he was the backup quarterback and DeShon was a wide receiver.
Williams was an all-league quarterback and defensive lineman. He threw for 3,235 yards and 29 touchdowns as a senior. He was also an honorable mention all-league punter.
But eventually he had to forgo throwing the ball when he took up an offer to play at Washington — and was recruited by Choate, then UW's defensive line coach and special teams coordinator. Williams just couldn't let go the idea of being the one who laid a hit on a QB instead of taking that hit.
"I knew he had a high football IQ because he was an excellent quarterback in high school. I wasn't concerned about him picking things up," Choate said. "Whether it's doing a special teams drill or how we get off a block or how we tackle, he's just a technician when it comes to those things so I think that's really helped his game."
And Williams reunited with DeShon, who played for two years at Colorado State-Pueblo then transferred to UW as a walk-on. Having another chance to play with his brother was thrilling.
And after having to move yet another time to play for the Huskies, a familiar face didn't hurt.
MSU defensive end Bryce Sterk, who transferred from UW last season, said Williams wasn't necessarily the talker of the team. But he made an impression on Kane Ioane, now MSU's defensive coordinator who was a defensive quality control analyst at UW and worked with Williams. Ioane noticed he took practices just as seriously as games
"That type of consistency as far as his preparation is concerned will help him be a good player when all is said and done," Ioane said. "And I know he wants to be a great player."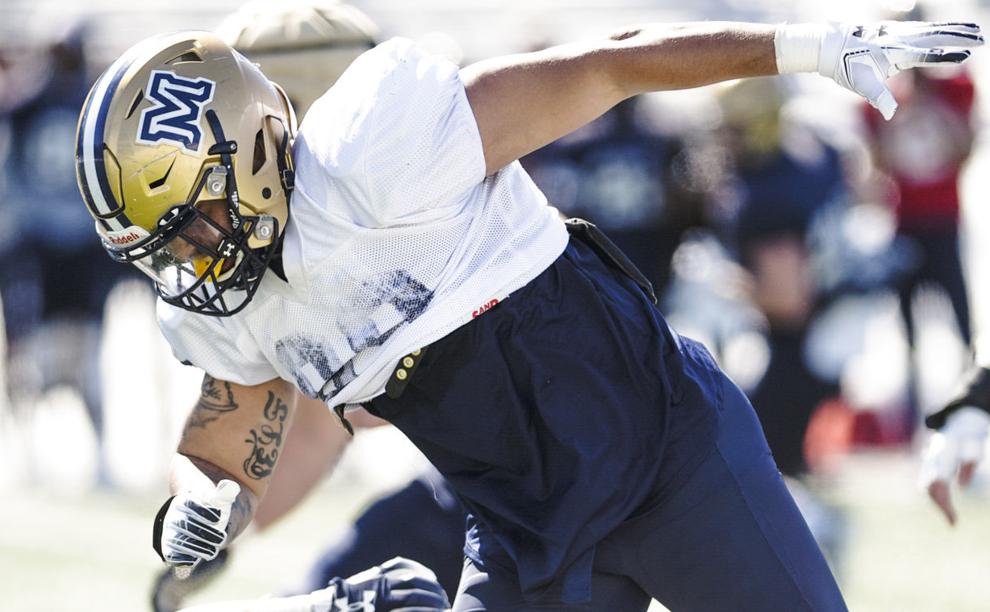 Williams wasn't meant to stay at UW his whole career, though. He announced he was leaving the program in October last year.
Playing time was part of it but not all of it. Williams desired to play for Choate, wherever that may have been. It just happened to be close enough to Washington that his parents could watch him play.
He came in with little to no expectations for Bozeman, MSU's campus or even what's left of his playing career. He was going to prepare the same way he had anywhere else he played and wanted to earn his place on the field. He did so quickly, securing a starting role — which forced Sterk, MSU's sack leader a season ago, to move positions — by the end of spring practices.
But even Sterk had to admit Williams has the "perfect" frame for an outside linebacker at 6-foot-2, 235 pounds. And, Sterk confessed, Williams is a fluid athlete who can succeed in pass coverage as well as pass rushing.
"He's definitely a good fit for our defense," Sterk said.
Choate thinks that familiarity in the coaching staff and scheme — the Bobcats and Huskies run similar defenses — are key reasons UW players like Williams want to play for MSU.
Sterk said about half of MSU's defensive playbook was changed this offseason, alterations brought by Ioane and what he learned at UW, so Williams was probably more familiar with it than Sterk was initially. Ioane said Williams was helpful in teaching his teammates the schemes because of that.
Williams wants to contribute any way he can. He was named the Bobcats' special teams player of the week after their win over Southeast Missouri, and his coaches have considered positioning him behind center in some wildcat quarterback situations in the red zone.
Having Sterk and fellow UW transfer Jason Scrempos as familiar faces, Williams' bond with them has only strengthened. Even if he hadn't known anybody on the team before, he already knew he could build relationships through football. At MSU, Sterk noticed Williams is more social and enjoyable to be around.
After moving around so many times as a child, and even after transferring colleges, Williams may have found a place he belongs.