The Bozeman Police Department released internal review findings Friday showing it has determined that officers acted justifiably and within reason during a September arrest in which an officer punched a woman and another held her to the ground with his knee — but also that they could and should have handled the situation differently.
"Part of the force was necessary," Police Chief Jim Veltkamp said. "And there are parts of that that we certainly believe were not the best option and could have been handled differently. There were certainly alternative use of force tactics that would have been more appropriate."
On Sept. 12, the department received a call that a woman had allegedly mooned people, including some children, on a Sunday afternoon on Main Street. Indecent exposure to a minor is a felony offense.
Court documents about the arrest say that the woman ignored officer's requests to stop, resisted arrest physically and slipped out of the handcuffs twice as officers tried to arrest her. Those documents also say that "force ultimately had to be used" to "gain control of her."
All three officers — Andrew Kappler, Ryan Jeppson and Zachary Garfield, according to dispatch records— remain employees of the Bozeman Police Department. Veltkamp said the department has "taken appropriate disciplinary action against the officers involved," but that he's unable to share specifics about any discipline or retraining, citing the city of Bozeman employee handbook and the right to privacy in the Montana Constitution.
"I do support all three officers," Veltkamp said. "I think there were clearly things they could have done better and should have done better, but I have confidence that the actions we have taken will change behaviors."
The reviews conducted also determined that the officers' decision to place the woman in a restraint device, called a WRAP restraint, was appropriate. But, similar to their other findings, the reviews found that officers could and should have done so differently. Veltkamp said the officers should have communicated to the woman and the bystanders that she was being held on the ground because they were waiting for a sergeant to arrive with the detention device, and what that device would do.
"The decision to wait for the WRAP was completely justified, appropriate, (and) ensures no future injury (to the person being arrested)," he said. "Officers certainly should have communicated that to the public, to those watching, because we understand at that point it looks punitive … and I can promise that was not the intent."
WRAP restraints are used by law enforcement to immobilize a person who is determined will likely continue to fight against being arrested or someone could be a threat to themselves.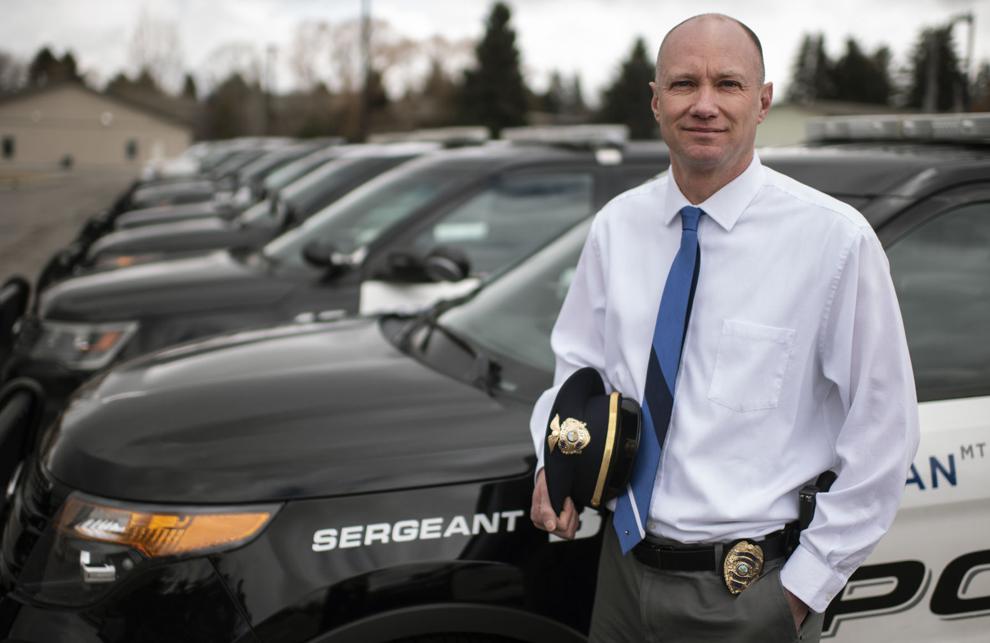 "Sometimes that is difficult in the heat of the moment, but it doesn't relieve our duty to do that," Veltkamp said.
The chief said the department has taken a number of actions to try to ensure that future arrests are handled more appropriately than the Sept. 12 arrest.
The department is working through its defensive tactics program to focus more on grappling-based techniques during arrests than strike-based techniques during arrests, Veltkamp said. There's been a general shift in law enforcement training across the country in that direction, and Veltkamp said BPD officers requested the department begin shifting its training towards grappling and away from punching or striking.
"We had officers put this proposal together and request that they be allowed to begin changing our defensive tactics program to grappling techniques since this incident," Veltkamp said.
Other training that the department had already been doing — but will continue to emphasize after this incident — is the focus on training more on de-escalation, communication and interacting with people who are "demonstrating specific behaviors" — like someone with a substance abuse disorder or a person having a mental health crisis.
"I believe we've done a very good job the last few years increasing our training in those areas, and we're absolutely going to continue to do so," Veltkamp said.
The department recently bought new training equipment that will allow officers to practice de-escalation in different scenarios. It's also restructuring the shift schedule to make it easier for teams of officers that are on patrol together to do their training together.
At the time of the incident, the department had three WRAP restraints, one in each patrol sergeant's patrol car. The review into this situation prompted the purchase of more WRAP restraints so they're more readily available, though the devices won't be in every patrol or department car.
The police department is also reviewing and updating some policies to make it more clear what actions are acceptable from officers during an arrest, especially one in which a person is attempting to evade arrest or fight officers. Every person, situation and arrest is different, Veltkamp said, but the policies need to be clear on what is acceptable and what is unacceptable behavior from Bozeman Police Department officers.
Veltkamp said the findings took so long to be released because the department and the city want to be as thorough as possible, though he understands that the amount of time can be frustrating both for members of the public and for members of the department, whether they were involved in the arrest or not.
"It takes a long time because we're wanting to do such a comprehensive job," he said. "I understand that can be frustrating internally and externally."